The Shredding of Documents – Why You Should Care
For many businesses, hiring a professional service for the Shredding of Documents is far from the top of their "To Do" list. It's easy to let things pile up!
However, as most of our customers come to realise, an unorganised workspace will eventually impact success. Keeping on top of the shredding of documents that clutter work zones is a must.
We've seen it time and time again, businesses who have come running to us after experiencing organisational issues… or worse, security problems!
Don't be another company that has left it to the last minute – get on top of your business now by booking a complete document shredding package.
What We Do
We'll send our team of experts in organisation and privacy regulations – with industrial-sized shredders in tow – to help sort out your document clutter. Obsolete invoices, old resumes, outdated manuals, pointless printpoints, and much, much more, we'll take everything clogging up your office and obliterate it.
You can be as involved or distant to the process as you like. And the jaws of our powerful shredders can handle more than just paper. We securely destroy USBs, DVDs, CVs, business cards, uniforms, ID cards, and anything else within reason too!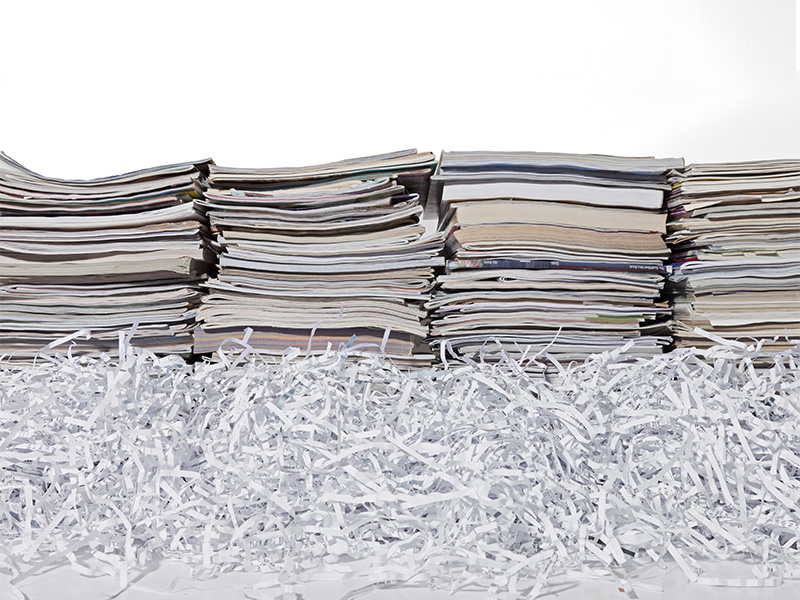 An Efficient Workspace
Freeing up space in your office or warehouse is proven to lead to a more productive environment. A successful business needs to be clean, efficient, and always moving forward. None of this can happen if you're still wasting space with the records from yesteryear.
A Safe Environment 
Businesses who fail to comply with privacy provisions by not properly disposing of unnecessary materials containing sensitive information compromise their trust relationship with the people they are responsible for. Guarantee a safe environment for you, your employees, and your customers by acting on your obligations. 
When you choose iShred to complete the shredding of documents in your business, you are choosing a NAID-approved company that knows its stuff when it comes to privacy laws. In fact, you get a certificate of destruction at the end – proof that you have done the right thing!
For more information, or to book your own document shredding service, contact iShred today!